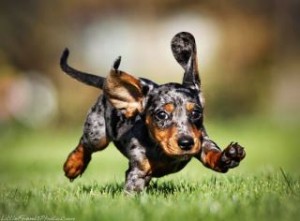 As a pet parent, your dog's health is your responsibility. And an integral part of keeping your pooch healthy is providing him or her with sufficient exercise. We all know walking has the best benefits for overall health in humans, but what about for our canine companions?
It just so happens your dog's primal need is to walk! Just as horses need to run and squirrels need to climb, dogs need to walk; it's in their DNA. Sure, letting Rover run around the backyard can be good exercise, it is no substitute for taking him for a walk. Activities like time in the yard, visiting the dog park and playing catch in the house don't offer the same mental stimulation your dog gets by investigating every sight, sound and smell when you take him for a walk. As you and your dog walk, he's gathering information about how his territory has changed since the last time he was there, and taking him to new locations generates a sensory excitement like no other.
So how can you find time in your busy day to give Rover the walking wonderfulness he so craves and deserves? It's simple ~ find a way to include him in your plans!
In the mood for some window shopping? While you obviously can't bring Rover with you when you visit the mall, you can take him along for some window shopping in your favorite downtown area or outdoor shopping plaza. As long as he's well-behaved and securely leashed, you should have no objections from shop owners, fellow shoppers or authority figures as Rover stays by your side as you take in the window views.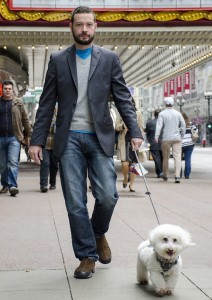 Need to chat with your neighbor? Rather than pick up the phone and call your neighbor two streets over to ask if she wants to join you for dinner, throw a leash on Rover so the two of you can walk over to ask in person. It may not equate to a long walk, but a short walk is better than nothing!
Heading to your parent's house for a family get together? Even if their home isn't within walking distance from your home, you can still drive and get some stroll time in by parking at a nearby restaurant or store and walking the rest of the way.
Need to pick up a few things from your local grocery store? Enlist a family member or friend to join you and Rover on a walk to the store, where your people partner can take care of Rover while you're inside picking up what you need.
Is a trip to the hardware store on your weekend to-do list? Take Rover along for the ride, then leash him up and bring him inside. Many hardware stores allow dogs (ever notice the woman at Lowe's pushing her puffy Pomeranian around in the cart?), so take advantage and bring Rover with you on your next visit (check with the store first, of course!). Either before or after your shopping spree, walk him around the grounds for some extra exercise and mental stimulation.
Craving some ice cream? Most ice cream shops have outdoor seating and welcome dogs. Some will even give Rover a complementary doggy sundae! If you live within walking distance of an ice cream shop, take Rover over for a special treat; if not, drive most of the way and park within a mile or so, then walk the remainder of the way.
Whatever your daily plans, chances are there's one way or another to include your precious pooch in a way that will allow for some extra activity. Not only will an impromptu walk in undiscovered territory be a thrill for your pooch's senses, but it will also enhance your already strong bond.